07 Jun 2022
Hot Forged Fasteners Manufacturer | Hot Forging Bolts
Hot Forged Fasteners Manufacturer | Hot Forging Bolts
Fastenwell is an expert in hot forged fasteners manufacturing for over 15 years, especially hot forged hexagon bolts, hot forged square head bolts, hot forged cup head square neck bolts, hot forged countersunk head bolts, hot forged round head bolts, hot forged pertrochemical bolts, nuts and studs, threaded rods etc.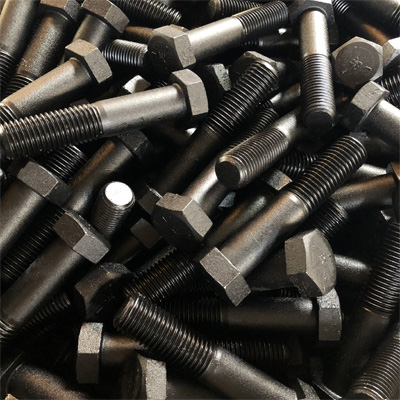 Hot forging bolts, as its name suggest, which is compared with cold forging bolts. The difference lies in the bolt forging process at normal (cold forging bolts) or high temperature (hot forging bolts) conditions.
What's bolts forging?
Bolts forging is a process of making a desired shape of bolt from metal roll by the application of external force. It's the first step most bolts and screws abttain their required shape. Hot forging bolts are usually these bigger sizes with materials in large diameter or which maynot malleable enough.
How to making a bolt?
Bolts come with a wide range of different diameter, length and shapes, but the general production process remains the same. It starts with cold forging or hot forging steel wire into the right shape, then heat treating to improve strength and surface treating to improve durability.
What kind of forging is used for making hexagon bolt?
Fastenwell manufacture different size of hexagonal head bolts, both cold forging bolts and hot forging bolts. For sizes over M24, we usually go with hot forging operation.
What are the main advantages of hot forging bolts?
Hot forging is typically the best choice for steel forgings used in technical applications. The main advantages of hot forging include a homogenized grain structure, low work hardening, increased ductility and a reduction in chemical inconsistencies.
Which is better hot or cold forging?
Cold forging improves the strength of the metal by hardening it at room temperature. Hot forging results in optimal yield strength, low hardness, and high ductility by hardening the metal at extremely high temperatures.
Applications Of Hot Forged Fasteners
Petrochemicals (Oil & Gas Projects)
Energy Generation
Construction and Infrastructure Projects
Valve and Piping Industry
Tractor Supply Bolts
Characteristics of Hot Forging Bolts
Optimal Yield Strength
Low Hardness
High Durability
High Temperature Resistant
Energy Switch Control
Fastenwell manufacture and supply many different bulk hot forged fasteners and bolts. If you are looking hot forged hexagon bolts, hot forged cup head nolts, hot forged studs and rods, please feel free to contact our sales representative by info@fastenwell.cn
Keywords: hot forged fasteners, hot forging bolts, hot forged hexagon bolts, hot forged square head bolts, hot forged cup head square neck bolts, hot forged countersunk head bolts, hot forged round head bolts, hot forged pertrochemical bolts, nuts and studs, threaded rods, hot forging fasteners manufacturer