ABOUT FASTENWELL
Fasteners Manufacturers in China, Bolt Factory, Bolt Manufacturers
Founded
FASTENWELL is a leading bolts and screws manufacturer in China. With a 15 years of expertise in fasteners production and technology, we have annual output of 5000tons bolts, studs, screws etc, especially hex bolts, structural bolts and studs. Our factory leader started the first personal owned business in 2006, with a mission of becoming customers' first choice for fasteners manufacturers in China.
Products
Nowadays, FASTENWELL manufactures and offers a board range of fasteners, including hex bolts, hex cap screw DIN931, DIN933, ISO4014, ISO4017, structural bolts A325, A490, studs B7 as well as different types of screws including machine screws, socket head cap screws, self tapping screws, chipboard screws etc.
Also, FASTENWELL can also provide customize specialty fasteners as per your drawing or samples.
Growth
Through years of hard work and with support of our valuable customers, We Fastenwell have both cold forging and hot forging production lines for bolts and studs to meet customers order requests. All items are tested ok before shipment and will issue 3.1 certificate as per customers' requirements. There are large numbler of customers we serve are big fastener wholesaler, contractor, traders and manufacturers coming from construction and industrial applications like steel structure, oil & gas, automobile, wind energy, marine, HVAC and furniture applications etc. Our most outstanding market are Asia, Middle East, North and South America market. If you are looking reliable and long term partner for fasteners manufacturer in China, please never miss Fastenwell, we will prove your choice worthy.
Certificate
Fastenwell is an ISO 9001 certified bolt factory and fasteners manufacturer in China. Meanwhile, we can also support and provide certificates as customer's requirements for CE 15048, IATF16949, SGS certificate etc, especially for construction, oil & gas, as well as automotive applications. Customized bolts and screws with required certificate can be offered.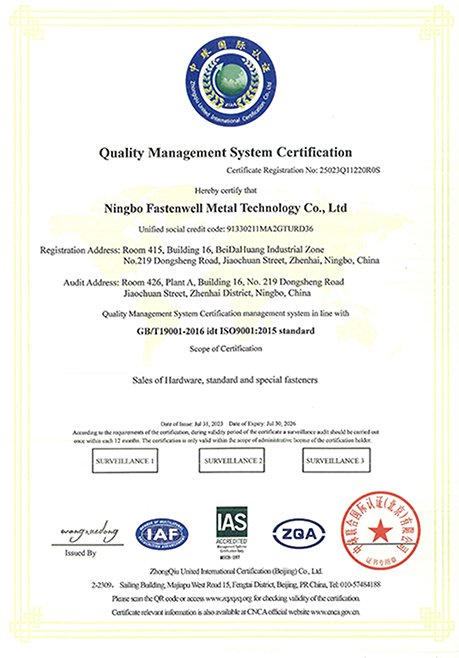 Fasteners We Manufactures and Main Applications We Serve
Hex Bolt / Hex Cap Screw
Structural Bolts
Heavy Hex Bolts A325
Carriage Bolts
Flange Bolts

Machine Screws
Socket Head Cap Screws
Self Tapping Screws
Drywall Screws
Chipboard Screws

Hexagon Nuts
Nylon Lock Nuts
Serrated Flange Nuts

Studs B7
Double End Stud
Threaded Rods
| | | |
| --- | --- | --- |
| | | |
| Construction Fasteners | Oil & Gas Fasteners | Wind Turbine Fasteners |
| | | | |
| --- | --- | --- | --- |
| | | | |
| Marine Fasteners | HVAC Fasteners | Automobile Fasteners | Furniture Fasteners |
For more fasteners solution for different applications, please feel free to write our engineer team via info@fastenwell.cn
Look forward to support you and start mutual beneficial & interactive cooperation!
Keywords: Bolt Factory, Screws Factory, Fasteners manufacturer in China, hex bolt manufacturer, threaded rods manufacturer, studs manufacturer, China bolt, China screw, Bolts and Screws Suppliers, screws maker, heavy hex bolts A325 manufacturer, Chipboard screws manufacturer, self tapping screws manufacturer