Threaded Rods
Threaded Rods Suppliers and Manufacturer
Threaded Rods Categories
As one of the leading threaded rods suppliers, Fastenwell manufacture, stock and supply double end studs and threaded rods astm a193 B7 for customers in construction and industrial applications, at the best factory prices and delivery.
What is threaded rods? What' s threaded rods also called?
Threaded rods, also known as threaded bars, double end studs or stud bolts, which a threaded fastener which has long rod with thread on both ends.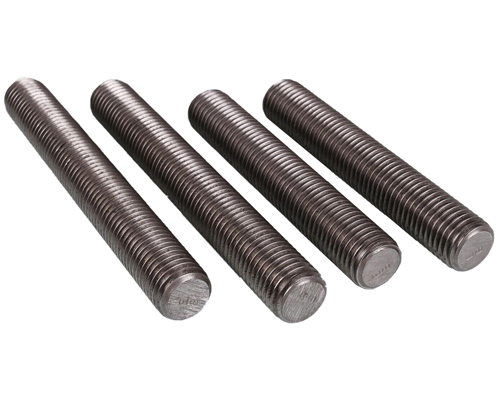 What are threaded rods used for?
Applications for Threaded Rods:
Threaded rods are widely used in applications to fasten two materials together. For example, connect metal to wood or concrete objects. Mostly in industrial and construction industry like combustion gas systems, constructing building, road, bridges etc. Fastenwell is a threaded rods manufacturers and suppliers export threaded rods B7, B7M, B8, B8M for customers in contruction applications worldwide.
How do you size a threaded rod?
Threaded rods have two critical specifications, diameter and length. Some customers also have requests for angle and weight when inquiry. Fastenwell is a threaded rods manufacturers, we can produce as customer's special requirements of weight and angles.
Can I bend threaded rod?
The threaded rods can be bend when you use enough manual force. If you want the threaded rods to be stronger, you can make request on materials using when production. Q193 and Q235 are most common seen materials for low carbon steel threaded rods.
Is B7 the same as Grade 8?
Both ASTM A193 B7 and Grade 8 refer to the performance of threaded rods, B7 with performance more close to Grade 5, which can be used in high temperature and pressure applications.
What is Grade B7 threaded rod?
B7, with full name ASTM A193 Grade b7, which refers to a fully threaded rods or bars which can worked for high wear, high temperature, high pressure or high strength applications. Heat treatment and surface treatment are required usually.
Why stud is used instead of bolts?
Studs can provide much more torque than bolts when fastening and tightening, it can keep still when the pressure coming from surroundings.
What is difference between studs and bolts?
Both studs and bolts can work with nuts. Both usually with a head, hex, flange, square or T head etc. While studs are bolts without head, and with thread from end to end.
What is the difference between machine bolt and stud bolt?
Machine bolts, also called machine screws. Which is a threaded fasteners with head and full thread on its body. While stud bolts is a headless bolts, which can be full thread, or thread on both ends, but bright and finish in the middle of the rods.
What' s the difference between threaded rods and bolts?
Threaded rods are full thread bolts with head, also threaded rod has longer length than bolts. The max length of threaded rods we manufacture is up to 3 meters.
Where to buy threaded rods?
Fastenwell is a leading threaded rods manufacturers and suppliers. Our Threaded rods B7, B8, DIN975, DIN976 are very popular among regular customers with good quality, durable performance and competitive prices, if you can request or inquiry for threaded rods products, please feel free to contact us.
Any questions for threaded rods, email us at info@fastenwell.cn. We will check and response very quickly!
Keywords: Threaded rods manufacturers, Threaded rods suppliers, Threaded rods B7, Threaded Bars, Studs, Double end studs