Bolts
Fasteners Manufacturers in China, China Bolt, Hex Bolts Manufacturers
Fastenwell is one of the leading fasteners manufacturers in China, and we manufacture and supply high strength hex bolts, studs and nuts made of both carbon steel, alloy steel as well as stainless steel for industrial and construction projects for years, especially for steel structure, space frame, oil & gas, automotive, wind energy tower, solar plants, photovoltaic installation, railway and bridge buidling, valves and piping, mining etc.
Our types of bolts are hex bolts, heavy hex bolts, structural bolts A325, anchor bolts, flange bolts, carriage bolts, square head bolts, T head bolts, etc.

Fastenwell, acted as one of the most professional fasteners manufacturers in China, we produce and export both standard and specialty bolts. And we can check if standard bolts available in stocks upon your request, if bulk construction bolts and screws are required, we can arrange quick production and delivery in 30 days. Your inquiry will be highly appreciated by us. info@fastenwell.cn
Types of Bolts we Manufacture
Hex Head Bolts: DIN 931, DIN 933, ISO 4014, ISO 4017, DIN601, DIN 558, ASTM A325, A370, A490
Hex Flange Bolts: DIN6921
High Strength Structural Bolts: DIN 6914, ASTM A325, A490, DIN7990
Carriage Bolts: DIN 603
Anchor Bolts:ASME 18. 31. 5, JIS B1178
We are also as China bolt manufacturers and custom bolt manufacturer, customize Bolts can be provided as per customer's drawing or samples.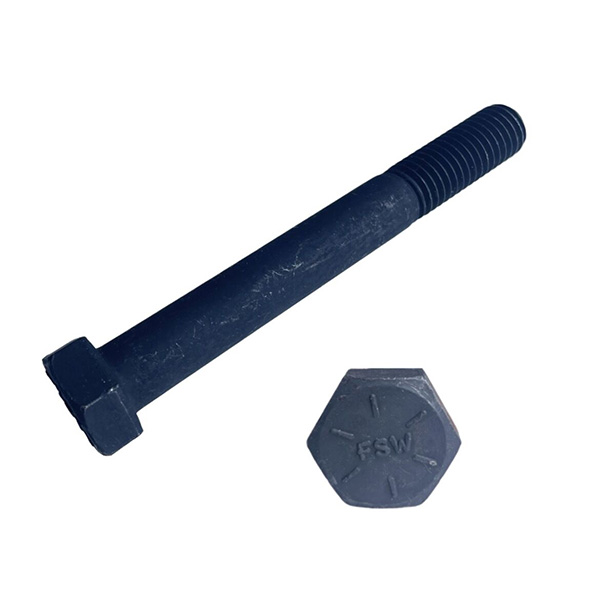 China fasteners manufacturers play a very important role in the production and supplying hex bolts meet customers' requirements in different applications. They decides how are hex bolts manufactured, and control the quality to meet standard because the quality of hex bolts is crucial in industrial and construction projects.
Fastenwell produce various type of China hex bolts in different sizes, materials as well as coatings, like carbon steel hex bolts, stainless steel hex bolts, as well as custom hex bolts, which are supplied to various industries and businesses mainly in Asia, Middle East, North and South America market. As one of the most professional fasteners manufacturers in China, quality and costs are always our first priority when serving customers from different industry, to make each size of our bolts are perfectly work in the right applications, we will check the dimension and appearance of the bolts, testing their tensile strength and other mechanical and chemical properties as per standard, and ensuring that they are corrosion-resistant and issue 3.1 certificate along with shipment.
Why choose fasteners manufacturers in China?
If you are looking for a reliable and high quality supplier of fasteners, be sure to consider fasteners manufacturers in China and you will never be disappointed, and contact us now, you will see that it's not hard to find a China bolt or right fasteners manufacturers in China.
As a second large country for fasteners manufacturing companies, China is the paradise for some most reliable and advanced fasteners manufacturers in the worldwide market. Fasteners manufacturers in China with the ability to produce a variety of fasteners to meet the unique needs of different industries, from standard bolts, nuts and screws to specialty bolts and nuts, for industrial and construction applications.

Why choose Fastenwell as your China bolt manufactures & supplier?
As one of the professional fasteners manufacturers in China, Fastenwell has the expertise and technology to deliver high-quality products that meet even the most demanding specifications, while produce at a lower costs than many of our competitors. Also, we have a comprehensive quality control system to ensure that every piece of our fasteners meet the highest standards and are consistently of the highest quality. Last but not the least, personalized customer service can be provided once receiving your request for fasteners. If you are trying hard to find fasteners, please feel free to ask us by info@fastenwell.cn
Top bolts manufacturers & fasteners manufacturers in China
Ningbo Fastenwell located in one of the most famous fasteners town, there are plenty of bolt manufacturing companies in the same district or even in the same street. In our neighborhood, there are Jinding, Ningli, Dongxin, which are the big bolts and nuts manufacturers in China, and Fastenwell as one of the China hex bolt manyfacturer, we manufacture and export the same scope and quality of hex bolts, heavy hex bolts, stud bolts and threaded rods as thees biggest bolts and nuts manufacturers.
Fastenwell's Quality Control as Reliable Hex Bolt Manufacturer & Hex Bolt Supplier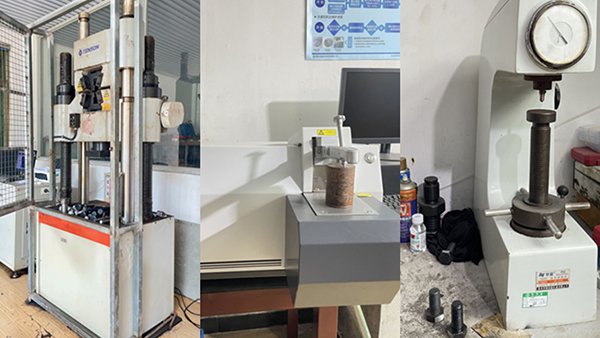 Tensile, Yield, Stress under Proofing Load

Spectrograph Chemical Composition

Rockwell Hardness Test
What is the manufacturing of fasteners?
The manufacturing of fasteners involves several steps like raw material selection, heading, threading, heat treatment, surface finishing, inspection and testing, finally issue certificates accoding to the relative standards. Most bolt manufacturing companies produce hex bolts by cold forging or hot forging.
Our product range for cold forming is from M6 to M24, and from M27 to M72 is hot forging. Some of our strongest product groups are hex bolts DIN931, DIN933, heavy hex bolts ASTM A325/A490/A307, as well as high strength structural bolts DIN6914, ANSI/ASME B 18.2.3M etc.
What are hex bolts used for?
Hex bolts are most common types of bolts used in different industrial and construction applications, including steel strcutural, automotive, oil & gas, valves and pipping, wind energy towers etc. Fastenwell as one of the leading fasteners manufacturers in china, we manufacture and export both metric hex bolts and imperial hex bolts, with DIN, ISO, AMSE, SAE standard, especiall high strength hex bolts grade 8.8, 10.9, A325, A490, grade 5 and grade 8 bolts.
How are hex bolts manufactured?
To manufacture qualified hex bolts, there are several steps including forging, threading, heat treatment and surface treatment etc.
Forging. Fastenwell has both cold forging and hot forging production lines for nuts and bolts manufacturing. They start with heating the steel to a high temperature to soften it and then pressing it into the desired shape using a press or hammer to form the bolt head and body.
Threading. It involves cutting the threads into the bolt to enable it to mate with the corresponding nuts and washers.
Heat treatement. To improve their strength and hardness, especially for HDG grade 8.8 hex bolts, the heat treatment is very critical to meet the hardness requirements.
Surface treatment. Which involves heating the bolts to a high temperature and then quickly cooling them to create a durable and corossion resist surface layer.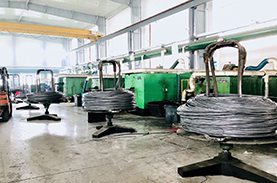 How do I identify my bolt manufacturer?
When you have hex bolt at hand, you can check the headmark and can quickly tell which bolt and nut manufacturing companies it belongs to. For exampe, headmark "XX" plus grade 8.8, 10.9, "XX" refers to the manufacturing factory. We we produce and export in our own headmark or customer's headmark if quantity is over MOQ. Customized headmark can be provided.
Which Bolt are commonly used in industry?
As far as we concerned, hex bolt is almost the most popular fasteners in industrail and construction projects in worldwide market. If you are building materials wholesaler, contractor, fasteners distributors, trader, hex bolts will be absolutely good business for you. If any request for good quality China bolt or Ningbo fasteners, please feel free to ask us. We are here at your service.
What are bolts without heads called?
Bolts without head are called studs, Stud Bolts, Double end Bolts, Threaded Rods, Threaded Bars. Fastenwell, also as a threaded rod manufacturers and stud bolt manufacturer in China, we have thread rod stocks and stud bolts for regular standard B7, B7M, B8, B8M, different sizes and length are available. Request for threaded rod, please feel free to reach us at info@fastenwell.cn
Keywords: China bolt manufacturers, nut bolt manufacturer in china, fasteners manufacturers in China, China bolt, bolt factory, nut and bolt manufacturers, nut and bolt suppliers, bolts suppliers, bolt manufacturers, screws nuts bolts suppliers, galvanized nuts and bolts supplier, bolt manufacturing company, hex flange bolt manufacturer, bolt head markings manufacturer, custom bolt manufacturer, Bolt factory, hex bolts manufacturers, china bolt, china bolt manufacturers, fasteners manufacturers in china, china fasteners, ningbo fasteners, china nut bolt manufacturers, nut bolt manufacturer in china, hex bolt manufacturer in china, china anchor bolt factory, what are hex bolts used for, types of hex bolts, leading fasteners manufacturers in china, China nut bolt manufacturer